Digital art software keeps getting better and better every year. What should a beginner choose? Is it worth investing in the best Surface Pro drawing app? After all, each program handles brush strokes differently, different technologies and interfaces, and the price tags range from free to expensive solutions. In this article, we will show you the best free drawing software in 2020
Adobe Photoshop continues to be regarded as the universal standard for digital artists. However, there are enough alternatives to compete with Adobe. Choosing a program is not a search for the machine with the most extensive set of functions. It's a search for an app that suits your specific needs as an artist.
This rating of programs for drawing on a computer (although some developers make applications for mobile OS).
Sai Paint Tool
A popular program for drawing anime and manga among artists. Simple interface, easy to learn for beginners. A set of all the necessary tools, fine-tuned to fit your needs. Supports work with graphics tablets.
Best free drawing software: Paint 
The most common editor on which you can draw anything on a graphics tablet. This is one of a whole list of drawing programs that needs no introduction.
Paint editor comes bundled with the most popular Windows operating system to this day. It has all the standard tools – brush, eyedropper, pencil, eraser, fill, and more. In it, you can cut, copy, paste, crop and much more. If you are using Windows, you don't even have to download it, open the Start menu, select an item from the Standard list, and launch Paint.
ArtRage
ArtRage is a real art studio for fans of painting and drawing with oil paints or pastels. This is one of the few graphics programs that feature real-life professional tools. The main idea of ​​the program is to show how easy it is to learn to paint with real paints.
ArtFlow
ArtFlow is one of the applications that allow you to create clear, three-dimensional drawings. One of the main features of the program is a large number of tools. You can choose from 70 brushes or other devices to create your artistic masterpiece.
The program also supports layers with different blending modes. You can save the result of your work in JPEG, PNG or PSD formats (for further processing in Photoshop). ArtFlow is an excellent choice for children and adults. The free version has some limitations.
Krita
Its main task is drawing on a computer, but it can be used for photo retouching and even for editing vector images. The program includes a broad set of brushes and other tools, allows you to work with layers, supports most image formats, a cropping function, vector modifications, a colour palette.
Clip Studio Paint
Formerly known as Manga Studio, it is a family of software applications for macOS, Microsoft Windows and iOS developed by Celsys. Used for digital creation of comics, illustrations and 2D time-lapse animation. Using Clip Studio Paint, you can draw manga on your computer just like you draw on paper.
MediBang Paint Pro
It was specially designed for comics and digital art. MediBang Paint offers a large selection of ready-made brushes (Mapping Pen, GPen, etc.), and also allows you to customize your own with a choice of the desired parameters. With robust functionality for creative people whose profession is drawing and creating professional comics.
ibis Paint X
Among the free drawing applications for Android, ibis Paint X takes the honourable first place. Primarily due to its performance – the program works smartly on any mobile device and drawing feels smooth and comfortable. There are 312 kinds of brushes among ibis Paint X tools, including dip pens, felt-tip pens, digital pens, airbrushes, fan brushes, flat brushes, pencils, crayons, stamps. Canvases are no less varied here. In terms of functionality, the application can compete with editors for a PC.
What the closest competitors definitely cannot offer is the social component. An additional feature of the application is the ability to record the drawing process on video. The paid version of the program will bring with it new fonts, filters, brushes, modify the gallery, and also get rid of ads.
Which drawing application for Android to choose and download is up to you. Start from your level, capabilities and what exactly you want to draw. We hope our list of the best programs will help you make the right choice!
Artweaver
A program for processing photographs, as well as for painting with a wide range of artistic effects. Artweaver has a good selection of tools (chalk, charcoal, pencil, fibres, sponge, oil) and filters (wind/oil effect, blur, wave, granulation).
FireAlpaca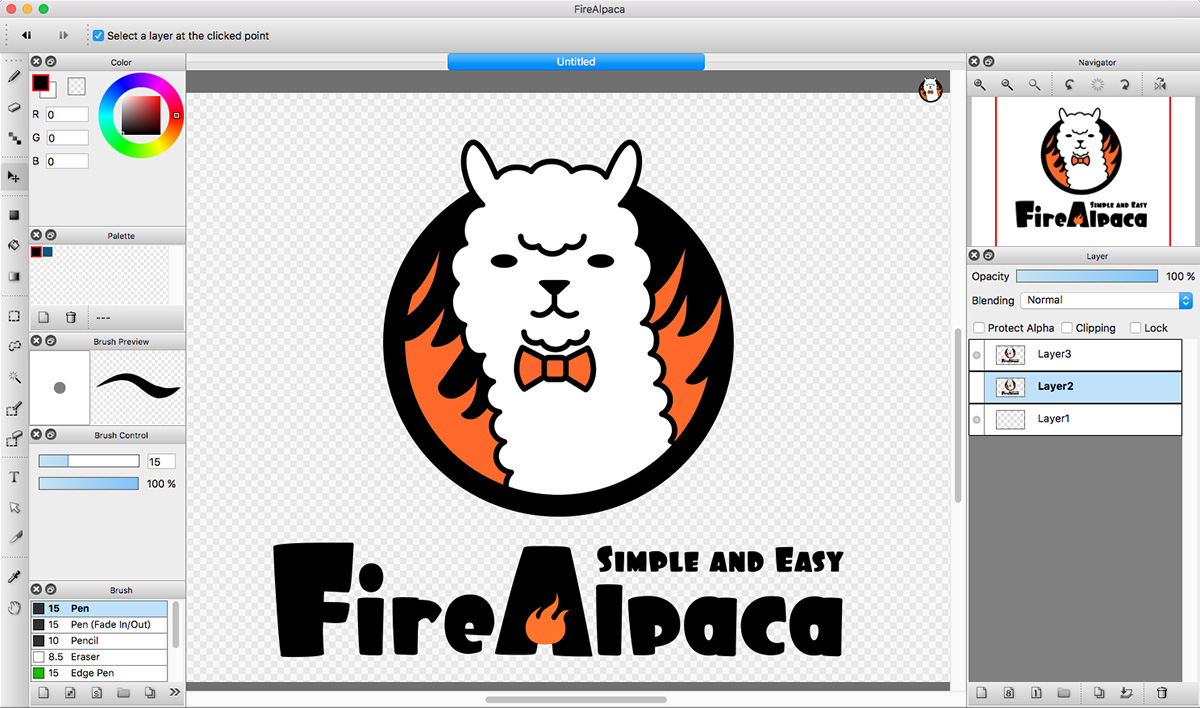 A handy but straightforward graphic editor for working with images and the ability to draw. There are no advanced or specific features here, but the basic set of tools allows you to quickly and easily edit the images you want.
Adobe Photoshop
Make way! The market leader in graphic editors. Aims more for working with bitmaps. Sets the tone for all other editors, many innovative solutions. The richest toolkit. Lots of plugins, lessons, followers.
CorelDRAW
Cutting edge graphic design software. The package includes all the industry-recognized tools found in the CorelDRAW Graphics Suite. We also created a separate application for viewing and editing digital images.
Draw Cartoons 2
Drawing cartoons yourself is a childhood dream. But the long and painstaking process of frame-by-frame animation will scare anyone away. In other words, drawing Cartoons, two tablet application greatly simplifies the spirit of cartoons; with it, anyone can try themselves as an animator. The key feature of the application is smooth animation on keyframes without the need to render each frame separately. So, forget about hundreds of similar drawings. A few are enough here.
You can draw in the program itself, all the tools for this are there. And for the lazy, there is a library of presets with ready-made characters and objects. Here you can add sounds and music to ready-made scenes, and record the characters' lines on a dictaphone.
Adobe illustrator
Graphic designers choose it because it has everything you need to create illustrations, work with fonts and vector design. Or draw "from scratch" projects based on geometric patterns. Development of printing, web design, presentations and branding are created in it.
Computer drawing program – SmoothDraw
This is another graphic representation that is free. In the program on the computer, it is easy to correct and edit ready-made files or draw your own, besides, the tool catalogue allows you to do this. In addition to the standard options available for almost everyone, there are some attractive "chips" here. So, useful functions with the professional bias of SmoothDraw are quite understandable. This best free drawing software is perfect for kids. There are no complicated elements here, and even a beginner will immediately figure out the menu.
But the application does not have Russian-language support for packages, but everything is quite simple, and this may not even be considered a drawback. SmartDraw doesn't have an installation file. It's just a portable version. That is, you can drop the folder with the drawing tool onto your removable media and then activate the service anywhere. It will typically open both on old devices with Win 98, as well as on the new "top ten".
MyPaint
To create drawings from scratch. The program simulates real tools (brush, pencil, etc.) and allows you to create art. So, you will be able to draw your illustrations from scratch and process photos by applying various effects to them. There are many custom size art brushes to choose from.
Inkscape
It differs significantly from the rest of the programs in the list primarily in that it allows you to create vector graphics. It is a more advanced and functional version of the CoralDraw familiar to most users.
What are the advantages of this application?
First of all, in the very principle of vector graphics, that is, drawing with directed segments. Such segments, in contrast to point fragments (in which all other programs described above work), can be easily edited at any stage. At the same time, with such editing of the shapes and sizes of segments, there is no loss of picture quality.
You can even enlarge the entire image several times while maintaining its quality. For this reason, the program is popular with web designers and designers, logo makers, etc., as they often have to edit the size of the image.
You can download it from the official site. At the same time, you must specify your operating system since there are assemblies of this program for all operating systems (which is another significant plus).
openCanvas
The program is a cross between Paint and editors like Corel Painter or Adobe PhotoShop. So, the editor has a well-organised and straightforward interface that makes creating and editing digital illustrations convenient and easy.
SketchBook
Autodesk SketchBook – Designer for illustration creation, there is a large selection of brushes and utilities to turn your computer into a digital canvas. For sketching, widely used by designers and artists.
TwistedBrush
For those who want to indulge. Has a morally outdated interface from the 00s. Developers have the audacity to ask for money for their software, although competitors can buy a more advanced editor for that amount. And they continue to record video tutorials on their software, and no one else … It's so sad …
Affinity Designer and Photo
The designer is a user-friendly and accurate vector graphic design software.
Affinity Photo – more attention is paid to raster graphics, photo processing, but the tools have brushes for drawing (screenshot one was made in this program).
The GIMP
The GIMP is another tool that was originally planned as a photo editor that could replace Photoshop. There are many different brushes, the properties of which can be changed, as well as the function of layer-by-layer processing of pictures. There are many more auxiliary effects and various tools that can make an artist's life easier.
Unfortunately, the main drawback of this program lies precisely in its multifunctionality. The fact is that The GIMP menu is quite complex, and it can be difficult for a novice user to deal with a large number of different buttons. So the program still needs to be mastered before it can be fully used.
BlackInk
The program is unique in its kind—customizable brushes. So, which will allow you to draw whatever you want as quickly as possible? You can use any brush with other innovative Black Ink tools.
But it lacks the standard tools that other editors have. And only eight layers.
How to learn to draw with the mouse: tips
In order to master the process of drawing with a mouse, first of all, you need to have a lot of perseverance, as well as a supply of patience and diligence. The main recommendations should be carefully studied:
It is better to use the brush tool to create a picture. It is with its help that it is easier to achieve the set goal than, for example, with a pencil, which only draws hard lines. You can adjust its hardness, degree of pressure, and transparency.
Instead of drawing one full line, it is better to use more individual strokes and segments.
There are already many ready-made elements in the editor. These are a variety of shapes and lines that you can transform as you see fit.
You should master a set of hotkeys that allow you to switch between tools quickly.
The eraser should be used with a low opacity level, which will reduce the sharpness of the lines.
When working, it is very advantageous to use layers, since when painting, you can go beyond the edges of the layer, and if you wish, delete them altogether.
To even paint over a certain area, you must first select it. This will allow you to stay within the boundaries and make the image more accurate.
Also Read: 7 Major Advantages Of Learning Japanese
Corel Painter 2020
Firstly, Corel Painter pushes the boundaries of creativity by giving artists a professional art studio. A highlight is a RealBristle tool, which simulates not only artistic effects but also the tactile sensations of working with brushes.
Pencil2D
The editor is primarily focused on creating 2D animation.
The finished work can be imported into video formats AVI, MOV, WMV, saved as a sequence of images or as a separate image in JPG or SVG.
Rebelle 3
Amazing program! The most realistic watercolour painting is realized in this program. The drawing looks natural. The paint spreads after a smear, is absorbed by the canvas, even dries. Moreover, the speed of drying, the wetness of the brush, the direction of spreading can be adjusted in the settings.
Also Read: MediaTek Vs Snapdragon
Paintstorm Studio
They are designed for professional digital painting. And the main role in this program is played by brushes, which can be easily and quickly adjusted to suit your painting style. It is intuitive, easy to use, but at the same time, a powerful tool that takes digital painting to the next level, making it as comfortable as possible.
Graffiti Studio – Free Graffiti Painting App
The Graffiti Studio program is a highly specialized software that was created for lovers of the youth art direction – graffiti. When drawing on a graphics tablet, you can choose different backgrounds on which to create your stylish creations. So, you can choose the backgrounds yourself. There are many of them in the program. In other words, you can decorate a bus, a building wall, a railway carriage and many other objects with your imagination. Although the volume of the installation package is small, the editor has many settings, create streaks, use all kinds of markers, change the distance to the object, do everything that a writer does in real life.
Also Read: Why Drink More Water After Deep Tissue Massage?